PRICING
ENDURANCE. STRENGTH. FLEXIBILITY. POWER. SPEED. AGILITY.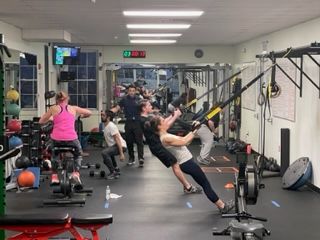 EMPOWERING YOU THROUGH EDUCATION AND TRAINING
At Fit In New England, one of our primary goals is to provide you with quality education and training no matter what your fitness goals are. We understand that everyone is different and may have different needs and wants when it comes to fitness, which is why we're proud to offer you a wide variety of education and training opportunities through our personal training, group training, and small group classes! When you choose to become an athlete at Fit In New England you're choosing to work with the best fitness experts in the area. Not only do you receive training on exercise and how to properly execute these exercises, but you also receive knowledge on nutrition, healthy food, and more! Contact us today to get started and GET F.I.N.E.
Personal Training Pricing
No matter if you're new to the world of fitness or you're a seasoned pro, everyone can benefit from personal training. Personal training allows you to work one-on-one with one of our esteemed trainers. All of our trainers hold strong backgrounds in kinesiology and athletic ability, as well as nutritional knowledge. At Fit In New England, our personal training includes:
Nutrition Guidance
A Personalized Program For You To Follow Outside The Gym
Customized One-On-One Training
Flexible Scheduling With Our Coaches
Month-To-Month Memberships
Injury Prevention Training
2x per month
Cost: $198
Unlimited Class Add-On: $89
4x per month
Cost: $376
Unlimited Class Add-On: $39
8x per month
Cost: $712 (includes HR monitor)
Unlimited Class Add-On: $19
12x per month
Cost: $1020 (includes HR monitor and classes)
Group Training Pricing
Our group training classes are essentially a hybrid between personal training and small group classes. Group training is a monthly membership where our participants choose to train four to eight times per month. All our classes are available through the Mind Body app and our athletes are able to choose what classes best fit their needs and wants. Group training includes:
Block Style Periodization Programming to Follow Outside the Gym
Access to Video Demonstrations
Maximum of Four Athletes Per Session
Fast Online Scheduling
Month to Month Membership
Small Group Class Pricing
Gone are the days of basic and boring workout classes. At Fit In New England, our small group classes help you target various athletic traits such as endurance, strength, flexibility, power, speed, and agility. They also help build your knowledge of training and make sure you're exercising properly. Our classes create room for some one on one attention as our class size is 10 participants max! Our small group classes include:
Access to Multiple Styles of Classes
Exercise Selection Alternates
Fast Online Scheduling
7-10 Participants Per Class Max
New Class Series Every 6 Weeks
30 Day Trial$125.00
Unsure of which package is right for you? Take advantage of our 30 day trial. This trial period lets you test both personal training and small group classes so that you can find which one is right for you! Our trial package includes:
Two Personal Training Session
Two Small Group Classes