PERSONAL TRAINING
ENDURANCE. STRENGTH. FLEXIBILITY. POWER. SPEED. AGILITY.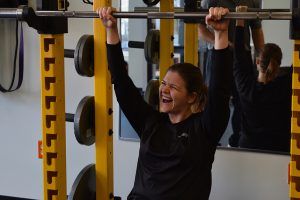 WHETHER OR NOT YOU'VE WORKED WITH A TRAINER BEFORE, TRAINING WITH OUR FITNESS COACHES WILL BE UNLIKE ANY EXPERIENCE YOU HAVE EVER HAD.
When training with one of our coaches, you can expect only the best!
All of our coaches hold a four-year degree in the health sciences field, are certified strength and conditioning specialists, and/or hold a certification of equal value making them extremely qualified in the realms of body mechanics and movement. We pride ourselves in having trainers with high education levels in order to give you the best training experience ever.
We are a personal training studio, but the training doesn't stop once you walk out the door. One of the biggest parts of working with a trainer is programming. What do you do when you are not with your personal trainer?
Every client/athlete is set up for success by receiving workouts to do based on your schedule and availability to reach your goals. After going through a detailed analysis of your fitness needs, your coach will develop a program custom designed for you! Your fitness program will be continually updated based on your progress and needs. Everything is catered to you!
Attention to detail can be the difference between victory and injury.
With our fitness coaches' strong backgrounds in kinesiology, and the focus solely on you, we won't miss a beat! Many people can be injured by personal trainers who don't have the ability to see when things are going wrong. Many people are taught that exercise isn't for them because of injuries. Most injuries are completely avoidable, and that comes from knowledge, experience, and attention to detail, something all our trainers have.
Our personal training packages are formatted to fit your life and your schedule. We have packages that range from meeting twice a month to up to three times a week. Please contact us to learn more about our options as well as tips for your success!